Rt Rev. Dr Martin Fair succeeded Very Rev Colin Sinclair and was inaugurated in front of a small group of people at a special ceremony held at the General Assembly Hall in Edinburgh on Saturday 16th May 2020
The service was held on the day that the annual gathering should have opened but was cancelled for the first time in 330 years due to the COVID-19 pandemic.
Dr Fair, 56, will continue to serve as the minister of St Andrew's Parish Church in Arbroath and undertake Moderatorial duties when required until further notice.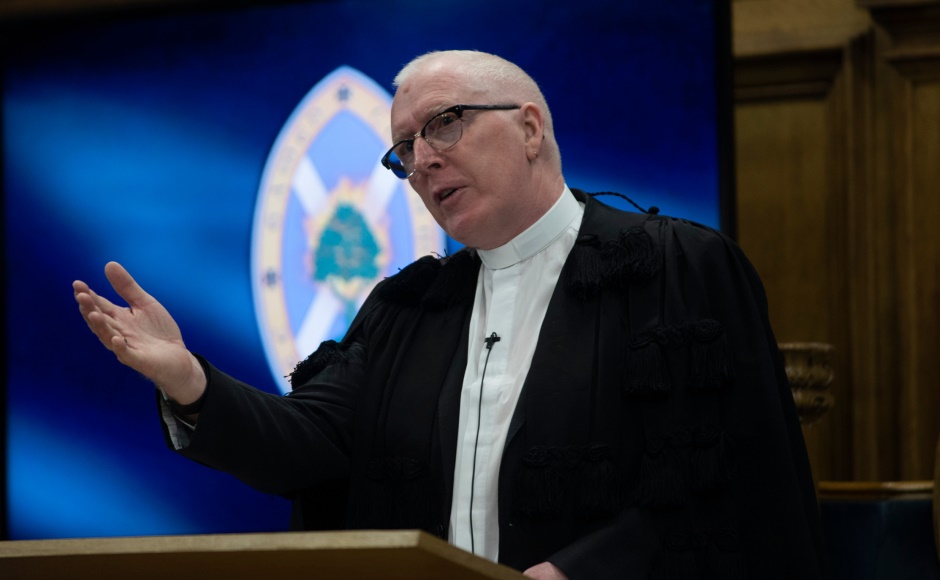 Same as always God
Dr Fair, who has served St Andrew's Parish Church since 1992 and will wear the Moderator's ring and chain of office during official duties, said the pandemic had forced the Kirk to re-evaluate because church buildings were closed and ministers across the country were spreading the Gospel message online.
"We find ourselves in uncharted territory, having to re-imagine church," he added.
"We may not have a blueprint but this calling has always been about a willingness to venture beyond the familiar and comfortable.
"Jesus didn't give much away when he called those four fishermen.
"He called them and sent them with no terms and conditions, no detailed plan, radical or otherwise.
"Though every circumstance change, God's love remains.
"And from love flows peace.
"'The storms of life may come and go but the peace of God you will know.'"